Welcome To Kilmersdon Village Hall
'The Heart of the Village since 1992'
Site Updated on 9 April 2018

| | |
| --- | --- |
| Ideal for: | Village Hall Features: |
| Weddings | Large stage |
| Parties | Extensive floor space |
| Events | Kitchen |
| Courses | Loop system |
| Concerts | Fully accessible |
| Plays | Car Park |
We do everything to make your day a good one!
As you can see below, someone else thinks we do too - we have our accreditation for good service.
If you would like your day here at the Hall, please contact Cherry Gilham on 01761 436767
| | | |
| --- | --- | --- |
| Awarded in 2014 | | Mendip winners of the 2014 Village Hall Management Shield |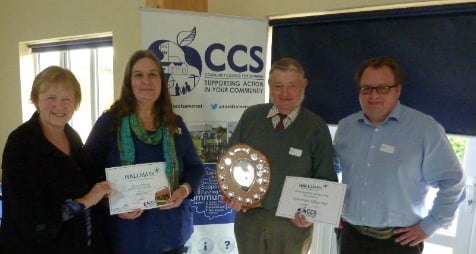 How We Did It
The Village Hall has come along way since the first idea was put forward. The best way is to let Martin tell you in his own words how it all started and how it has grown to the present day. It's an inspirational story of imagination and community effort to build a hall - and not just an ordinary hall. Have a read, it's well worth it!

Kilmersdon Village Day 2018
Kilmersdon Village Day will be held on Bank Holiday Monday May 28th 2018. Its theme will be mining, especially looking at the lifetime of Kilmersdon Colliery from 1875-1973, and hoping that villagers and visitors will enter into the spirit of the occasion by dressing up in costumes depicting the era.