A lovely rural venue to hold your
Weddings
Parties
Events
Courses
Concerts
Plays.
Spacious * Warm * Clean and Bright
The Hall is tastefully and quietly decorated and has everything you need to enjoy your special day. You will have the use of
A Large stage
Extensive floor space
Kitchen and toilets
Loop system
Fully accessible
Car Park.
Booking is easy. Call Cherry on 01761 436767
Our Story of How We Did It!
We started from a very small beginning and grew steadily. Thanks to the continuing community effort and the many people and organisations who have used the hall. In fact, anything from large organisations to personal events, like birthdays and weddings.

This is the highest level of award for Village Halls and was awarded in 2014
We were the Mendip winners of the 2014 Village Hall Management Shield. There are only four other Village Halls in Somerset with this level of accreditation.
Proud of their Award the team is showing the shield.
From left to right:-
Frances Horler, Cherry Gilham, Martin Horler, Scott Davis.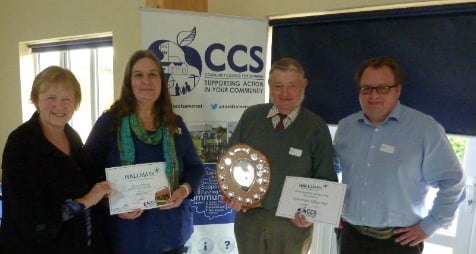 The Village Hall has come along way since the first idea was put forward. The best way is to let Martin tell you in his own words how it all started and how it has grown to the present day. It's an inspirational story of imagination and community effort to build a hall - and not just an ordinary hall. Have a read, it's well worth it!
Booking is easy. Call Cherry on 01761 436767
Your Privacy
You may wish to be aware that we do not track you or record anything about you, but other people do.
To find out more please click on "Privacy" below